Staff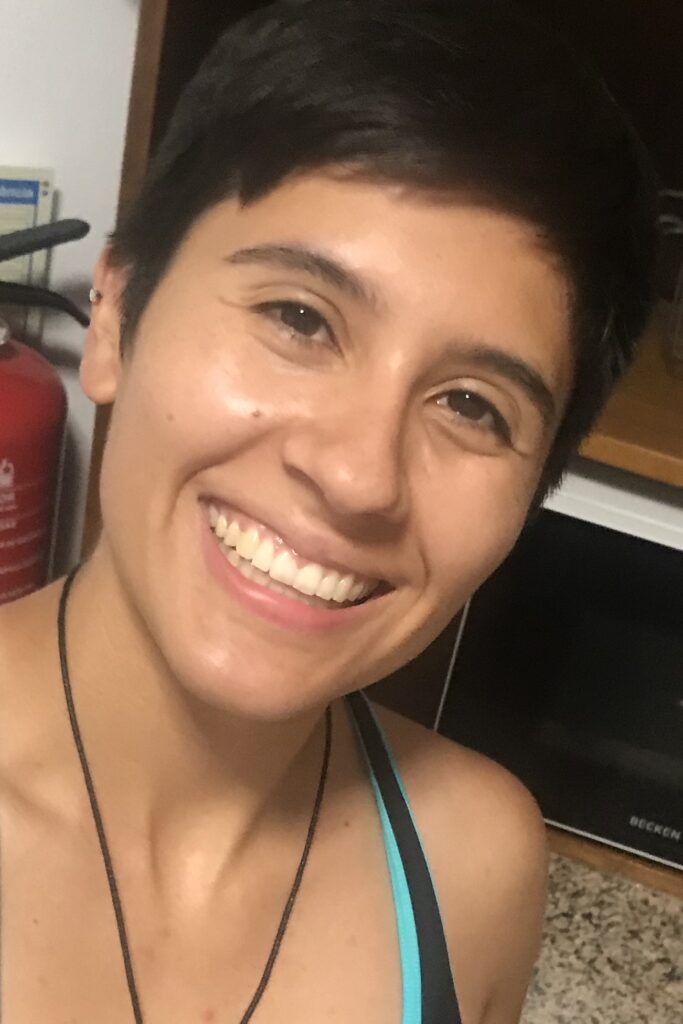 Cristina Dudziak (she/they)
Outreach Coordinator
Cristina joined the OUT MetroWest team after graduating from Bridgewater State University in 2023 with a degree in Psychology and a minor in Philosophy. She felt drawn to work as part of an LGBTQ+ nonprofit after working at her university's Pride Center for 4 years. Through her work at the Pride Center, she co-developed and delivered a training workshop called QPOC 101, which highlighted the experiences of BIPOC LGBTQ+ individuals and provided guidance for being an effective ally to this community. She also worked as a Peer Liaison and took an active role in planning both social and informative events for LGBTQ+ identified students and allies. Cristina has a deep passion for social justice initiatives and sees it as a part of her life's mission to work towards individual and societal healing.
Cristina currently lives in Sharon, MA, with her dog, Elliot. Together, they love to go on hikes in the nearby woods. Cristina is an artist and regularly models for figure drawing and painting groups. She is passionate about creating art from a place of authenticity and being involved with artist communities.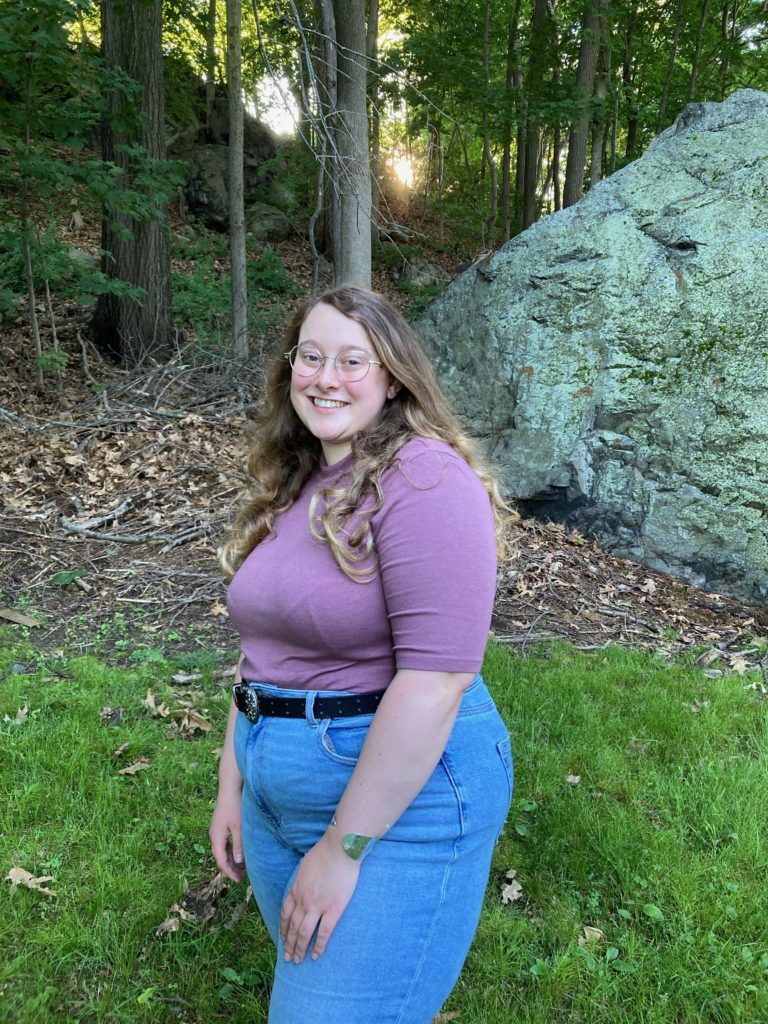 Sam Jean – she/her
Communications and Outreach Manager
Sam Jean brings her camp-counselor energy everywhere she goes, and is energized by community-driven programs. Sam has worked with LGBTQ+ youth of all ages, providing trauma-informed care to survivors in the LGBTQ+ community. She has previously served on the Board for Mass NOW, advocating for a number of intersectional feminist policies in the Commonwealth, including LGBTQ+ inclusive sex education. Sam takes a particular interest in the intersections of the LGBTQ+ community and (in)visible disabilities.
Sam is from upstate New York, and moved to Massachusetts to pursue a degree from Brandeis University in Women's, Gender, and Sexuality Studies and Studio Art. In her free time, you can find Sam find participating in Queer Scouts Boston and finding vegan food spots all around Massachusetts. She lives in Waltham with her fiancé Andie (they/them) and their 10-pound orange cat, Orion!
Eli Lavin – he/him
Program Coordinator
Eli started as an Adult Advisor at OUT MetroWest before taking on the position of Program Coordinator. In high school, he was the first to ever come out as transgender and sparked policy changes to protect transgender students. He was also a member of his high school's GSA where they worked to make the school safer and more accessible to LGBTQ+ students.
Born and raised in Massachusetts, Eli graduated with an associate's degree in communications from Bristol Community College and is pursuing a bachelor's degree from Emerson College.
Outside of work, Eli loves to do photography, videography, spend time with his Bearded Dragon named Nico, and play Dungeons and Dragons with his friends.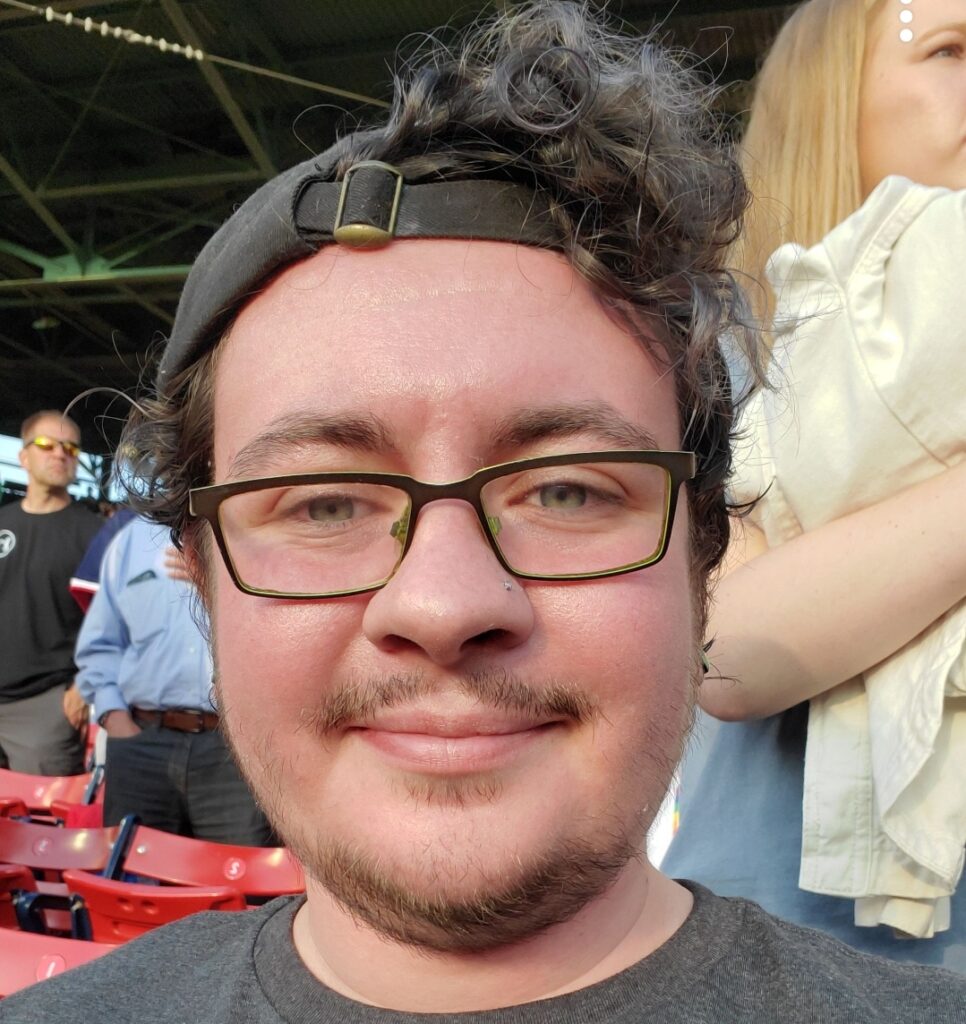 Lily Pearl – she/her
Program and Education Manager
As an Adult Advisor and alum of OUT MetroWest, Lily has been a part of OUT MetroWest in multiple forms. Since her days as president of her high school's GSA, she has worked to educate people about the LGBTQ+ community. She advocated for policy changes in her high school's curriculum and handling of bullying. She has worked with different organizations to support LGBTQ+ families and youth of marginalized identities.
Lily was adopted from China when she was 1 year old and has lived in Massachusetts ever since. She graduated from Smith College with a major in The Study of Women and Gender and a minor in Sociology. In her free time, you can find Lily feeding alpaca and emus on a farm and perfecting her matzo ball soup recipe. Lily lives in Southborough with her loving parents.
Whitney Retallic – she/her
Executive Director
For over 20 years, Whitney has worked with youth and young adults in a variety of settings, including as the advisor of a college LGBTQ+ student organization. She has directed leadership programs for students in middle school through college, led interfaith social justice initiatives and conducted outdoor education programs, all within MetroWest.
Originally from Iowa, she first moved to the MetroWest area for college and went on to get her M.Ed. in the Boston area, as well. Outside of work, Whitney loves being outdoors, starting (and sometimes completing) home improvement projects, and working with neighbors on issues of social justice.
Whitney lives in Maynard with her spouse, E.J. Labb (she/her), who is the executive director of an assisted living facility in Westford, and their child, Kaya.
Lucy Sweeney – she/her
Director of Individual Giving and Engagement
Lucy brings 14 years' experience in Boston-area nonprofits, with a particular interest in uplifting youth experiences and voices and in leveraging the power of relationships to build communities advancing equity and social change. Previously, Lucy was Director of Development at Science Club for Girls and worked in a variety of roles at The Food Project, including Associate and Interim Director of Development. Born and raised on Cape Cod and now a resident of Somerville, she earned a degree from College of the Holy Cross in Worcester. Lucy's loves include soaking in vitamin D, cooking (and of course eating) delicious foods, and being silly with her toddler Alden and husband Sefton.
Lucy is excited to be joining OUT MetroWest, growing its vibrant community, and learning to become a better ally to queer and trans youth and the LGBTQ+ community.
Adult Advisors & Peer Leaders
A team of Adult Advisors and youth Peer Leaders help plan and facilitate our programs on a weekly basis.
They plan meeting activities, lead discussions, and serve as LGBTQ+ role models for youth participants.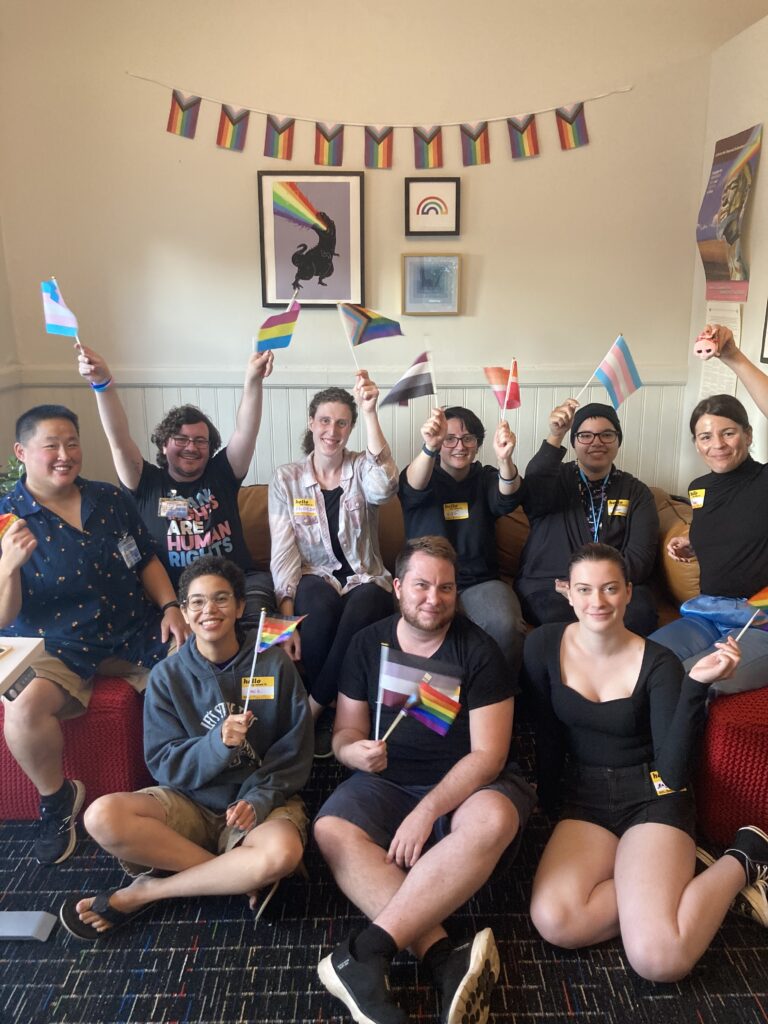 Board of Directors
Octavio González, Board Chair (he/him)
Ashley Seeley, Vice Chair (she/her)
Celia Harrison, Clerk (she/her)
Jim Bradstreet (he/him), Treasurer
Jordon Bosse (he/him)
Lindsey Caliga, Alum & Board Member (she/her)
Francisco Gonzalez-Rauschkolb (he/him)
Laura Gramenelles (she/her)
Donna Tambascio, Advisor to the Board (she/her)
Katherine S. Kaufmann, Director Emerita (she/her)
Anne Terhune, Director Emerita (she/her)
---
Growing Our Team
We believe that LGBTQ+ youth thrive when connected to diverse adult role models. When we have job openings, they will be posted on our "Join Our Team" page. Black, Indigenous, and People of Color are particularly encouraged to apply. If you are LGBTQ+ and a Person of Color and would like us to keep you in mind for future job or board service opportunities, please consider reaching out to our executive director, Whitney Retallic.