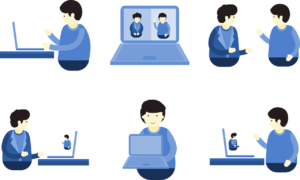 OUT MetroWest's programs for LGBTQ+ youth are social, educational, and supportive – they're probably most akin to a youth group. They're safe, fun spaces to gather with people with peers and role models who share one of your identities – a place to be yourself, make new friends, and build community. We host more than a dozen of these sessions each month.
When COVID hit, we immediately pivoted to offer all of our programs fully online. Attendance remained strong. For many youth, our online programs became the only time in their week when people used their correct name or pronouns, or when they felt fully accepted. With school supports suddenly missing, our programs took on even greater importance.
It quickly became clear that we needed to provide more support than ever before. Prior to the pandemic, LGBTQ+ youth had already faced disproportionate mental health challenges due to lack of awareness and discrimination – and COVID only exacerbated this trend. We needed to ensure that program participants had access to a therapist if they needed support while facing increased isolation.
Thanks to the support of Foundation for MetroWest, we've been able to put this support in place. Through FFMW's COVID Relief grant program, we were able to extend our partnership with Wayside Youth & Family Support Network to ensure that an LGBTQ+ competent Wayside clinician was on-hand at all of our virtual programs. This partnership has allowed us to maintain our social and educational youth group atmosphere while also accommodating the demonstrated need for increased mental health services. With this model, LGBTQ+ youth don't have to seek out an affirming therapist; rather, we're meeting them where they already are, ensuring they get the care they need.
According to the Wayside therapist who attends our programs, "COVID is putting a clear strain on LGBTQ+ youth. I see it in the number of consultations I'm doing and in the content of our conversations. Youth feel cut off from the supports they'd grown to rely upon. Even in one of the most progressive areas in the country with one of the best mental health systems around, there are very few places where LGBTQ+ youth can be their authentic selves. There is so much we can't control about the pandemic, and it feels good to be able to offer this concrete and reliable support."
We're so grateful for our partnership with Wayside and for the support of the Foundation for MetroWest. Their willingness to innovate to meet the needs of local LGBTQ+ youth has made all the difference for so many young people this year. If you know a young person in need of friendship, role models, and a safe space to explore LGBTQ+ identity, we'd love to see them at an upcoming OUT MetroWest program. And if you know an LGBTQ+ young person in need of immediate crisis intervention, we encourage them to connect with The Trevor Project's 24/7 text, chat, or phone emergency supports.