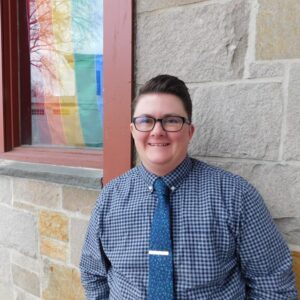 The OUT MetroWest Board of Directors is pleased to announce that Sawyer Bethel, LICSW, has been named Executive Director of OUT MetroWest. Sawyer was named Interim Executive Director in March 2017.
Deeply committed to LGBTQ youth and the greater community, Sawyer was previously a Program Supervisor and in-home therapist for community-based services at Boston GLASS (GLBTQ Adolescent Social Services), through Justice Resource Institute. They began working with OUT MetroWest in 2013 as a volunteer adult advisor for WAGLY, the organization's flagship program for LGBTQ high school youth, and then served on the OUT MetroWest Board of Directors (2015-2017) as a member of the Finance Committee.
"This past year has been a challenge for us, with changes in key personnel internally and the disruptive and concerning sociopolitical discourse externally," said Donna Tambascio, Board Chair. "Throughout it all, Sawyer advocated for the youth and families that we serve, engaged our supporters in meaningful dialogue, and embraced opportunities to grow professionally while implementing key organizational processes. We are pleased to continue this journey together with Sawyer leading our dedicated and passionate staff."
As Interim Executive Director, Sawyer ensured that OUT MetroWest's mission was fulfilled through seamless continuation of programs and the development of streamlined organizational policies. Sawyer also built upon existing fundraising efforts, laid the groundwork for a 2018 strategic plan, and recruited a new program manager.
"This has truly been a transformational year for me. During my tenure, I've drawn upon strengths developed in clinical practice and been called upon to develop new administrative talents," said Sawyer. "It is my hope that with our incredible staff, our committed Board, and our enthusiastic adult advisors and volunteers, we will continue to pursue our shared vision of supporting, educating, advocating for, and loving LGBTQ+ youth and families in MetroWest Boston."
In the coming months, in addition to overseeing operations and leading fundraising, Sawyer will work with the Board and staff on the organization's first comprehensive strategic planning process, starting with the administration of a constituent survey in coming weeks. Sawyer will also participate in the first cohort of the Emerging Leaders Academy through the Foundation for MetroWest.
"I believe that Emerging Leaders Academy will develop my strengths, assess areas for growth, and provide me with invaluable mentorship and peer networks," said Sawyer. "This training will allow me to fully 'lean into' my new role, producing a well-rounded and confident leader for OUT MetroWest."
In addition to WAGLY, OUT MetroWest offers Umbrella, a trans-facilitated program for transgender and gender non-conforming high school youth; Nexus, the state's first program for LGBTQ and allied middle school youth; weekly drop-in hours for LGBTQ youth in grades 6-12; and LGBTQ family events. OUT MetroWest began to operate youth programs in 2011 and became an independent not-for-profit 501(c)3 organization in 2015.
To learn more about Sawyer and the rest of the OUT MetroWest staff, click here.