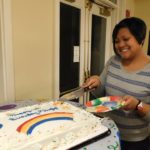 WAGLY celebrated its seventh birthday on Monday, March 19! Dozens of current participants and several WAGLY alums showed up to ring in the happy occasion. As we have in the past, we had an open mic for youth who wished to showcase their talents. We also welcomed Mistah Boston Pride 2017, Jayden Jamison KA St. James, who emceed the evening and treated us to an incredible drag performance!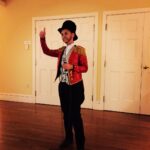 Seven years into delivering youth programs, OUT MetroWest feels like a growing family. Many of our earliest participants have graduated from college and are working full-time jobs. We're so proud of your accomplishments and hope that many of you will join us for alum nights this summer. You are now the role models our current youth participants are eager to meet!
P.S. Want to see more photos from the birthday party? You'll find them at our Facebook page.