A Tasty Summer Treat
On the afternoon of July 20, we co-hosted an ice cream party for queer youth at the Morse Institute Library in Natick. We were thrilled when the library's teen librarian, Robin Fosdick, invited us to team up for this fun event.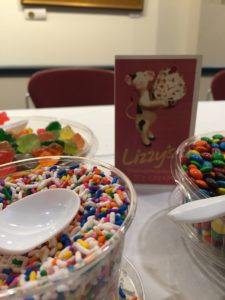 Ice cream sundaes from Lizzy's were gobbled up, but dessert wasn't the only game in town! The library's button-maker was a huge hit among youth. Armed with past issues of queer magazines and other button-making supplies, guests emerged covered in pins celebrating their interests and identities—including some sweet rainbow flair. Temporary tattoos, puzzles, and a queer movie showing were also popular activities.
Guests included participants from our Nexus, Umbrella, and WAGLY programs, as well as local youth who learned about the event through the library. The party was a perfect way to beat the heat and learn about the amazing resources that the library offers for queer youth. Thanks for having us, Morse Institute Library!