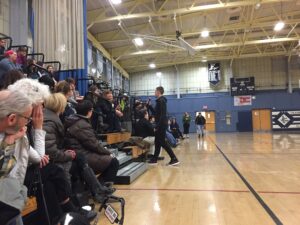 We were extremely fortunate to work with a generous donor and the folks at Framingham High School to bring world-class athlete Chris Mosier to town on March 15. The bleachers at the John F. Kennedy Athletic Complex were full of a diverse crowd of local residents eager to hear Chris's inspiring story. From young children and Umbrella teen participants to elected officials and school faculty, the audience appreciated Chris's discussion of bravery, authenticity, and competitive athletics.
Chris is the first openly trans man to make a U.S. men's national team and a two-time member of Team USA. He talked about his athletic journey from three-sport high school athlete to world-class duathlete; his experience of coming out; and the advocacy work he has felt called to do on behalf of other LGBTQ athletes.
One particularly powerful message resonated deeply with us that night: "You can't let other people dictate what you're capable of." Thank you, Chris, for this inspiring reminder of the potential that lies within LGBTQ young people!