Tickets are now on sale for our annual Come Out & Celebrate gala!
On September 24, we will gather at the Hilton Dedham to celebrate OUT MetroWest's work to enrich the LGBTQ community in MetroWest Boston. Guests will be treated to cocktails, dinner, and an inspiring program featuring important voices from the LGBTQ civil rights movement. The event honors Janson Wu, executive director of GLBTQ Legal Advocates & Defenders (GLAD), and Attorney General Maura Healey chairs the honorary committee.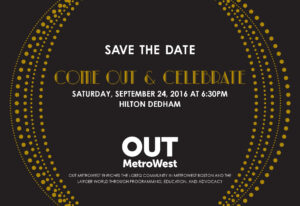 For more information, contact julie.blazar@outmetrowest.org or 508-875-2122.