"It was 94 degrees, and we were all wearing long pants and boots. Amazingly, we all survived."
This is what one participant recalls when asked about OUT MetroWest's July 29 service day with The Venture Out Project and the Appalachian Mountain Club. That this memory stands out is not surprising, given the weather our group encountered. We worked from 10 a.m. to 2 p.m. at a sunny field in Concord, while the temperature climbed over 90 degrees. Our project was a physical one: to build a stretch of raised walkway over a wet section of the Bay Circuit Trail. The fact that most of us had never before done trail work only added to the complexity.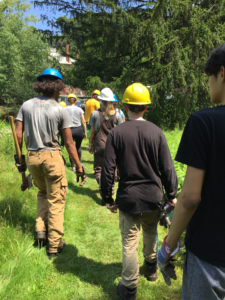 Fortunately, representatives from the Appalachian Mountain Club came prepared to guide us. They gave us safety instructions (Who knows what blood circles are? We didn't.) and taught us the difference between a Pulaski and a mattock. They helped us transport lumber, dig through thick roots, and hammer nails. There was even an impromptu percussion performance on the logs, just for fun.
This was undoubtedly our sweatiest event ever, but it was also one of our favorites. We all emerged with a sense of accomplishment and some important new skills. The town of Concord now has a brand-new walkway into Heywood Meadows, and we're proud to say it was built by LGBTQ+ youth and allies!